This is the Home Page

Friends of Stanley Park
and Salisbury Woodland
Established July 2002
Blackpool

We are a friendly group who work with the co-operation of Blackpool Council to make the park as attractive and interesting as possible. If you are interested in joining us or working as a volunteer please contact us.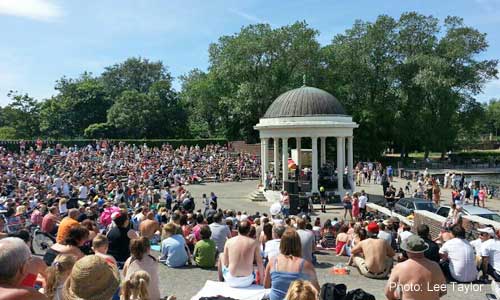 Photo: Beautiful day at the packed bandstand 14th July 2013, Belvadere, Poundstone, Rupert Fabulous.
(yes it's Belvadere with an 'a').
EASTER SUNDAY
What a great Easter. The Shakespeare went brilliantly with a fantastic turn out, and the Easter Fair and Easter Bonnet Parade were exceptional.
Click here for photos of the Easter Bonnet Parade and Fair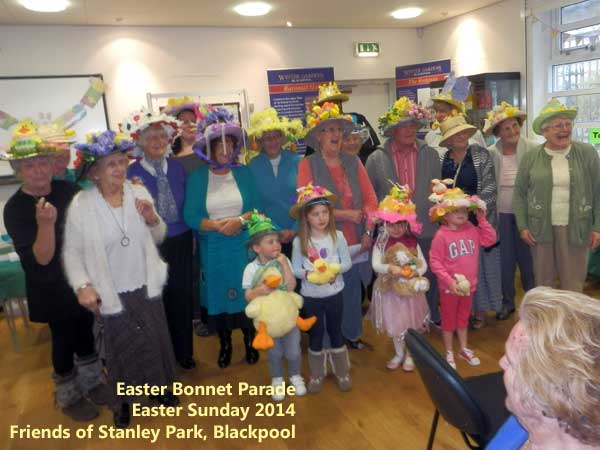 Click here for photos of the Merry Wives of Windsor

Friends of Stanley Park meet on the 3rd Saturday of every month in the Visitor Centre. Join us, non-members welcome.

Saturday May 17th.
Stanley Park Playground Refurbishment
From 31st March until 23rd May:
The playground will be temporarily closed for works to create a fabulous, new grant funded playground facility for children between the ages of 2 - 8 years.
The new farm themed facility will contain........Click here to read the full story and download an image.
On Easter Saturday 19th April: We are doing our part in the Blackpool Shakespeare Festival by giving our version the Merry Wives of Windsor in the Visitor Centre at 2.00pm.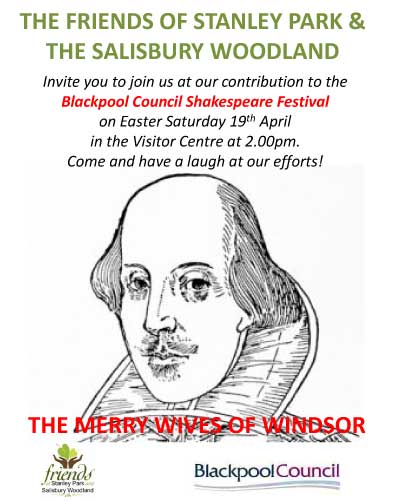 Easter Sunday 20th April, Easter Fair in the Visitor Centre.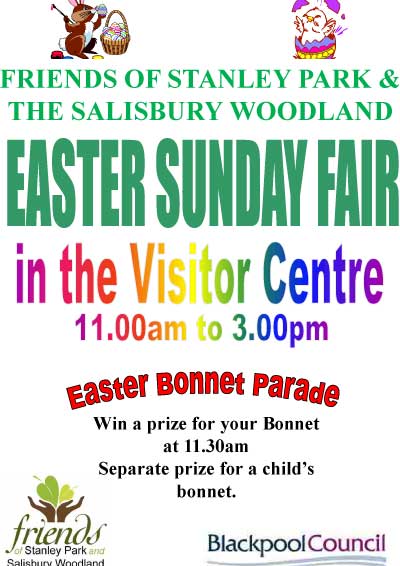 New Statues on the Park, March 2014, another photo is on our news page.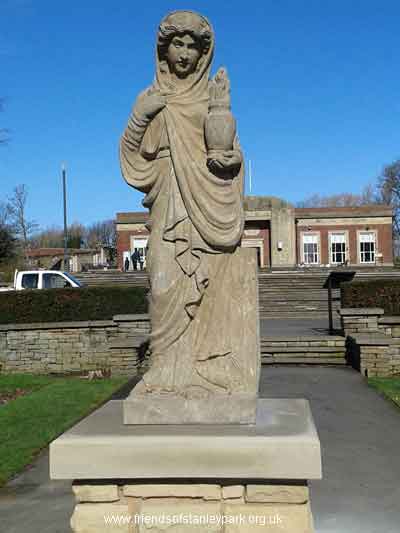 Full list of shows on the bandstand for 2014 on the Events page.

Starting with Salsa on 20th April and finishing on 28th September - the long summer.
Stanley Park Visitor Centre Exhibitions
Photo of part of the 'Dug In' display on-going exhibition.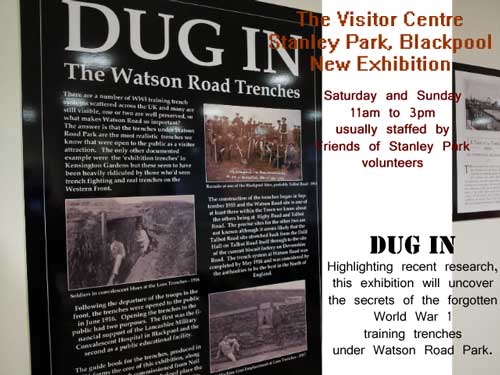 Opening times Saturday and Sunday 11-3 until spring 2014.
Exhibition on Now:
Early January to Spring 2014 - Dug In
Highlighting recent research, this exhibition will uncover the secrets of the forgotten World War 1 training trenches under Watson Road Park.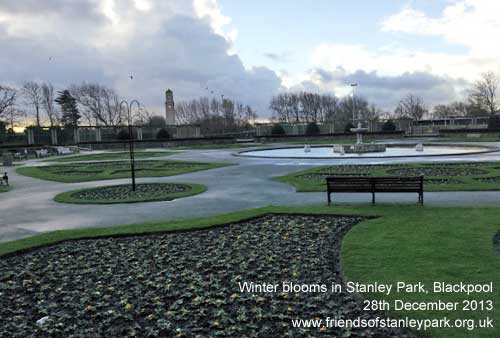 Photo of the children's playground being implemented although the Lion Slide is awaiting further funding availability.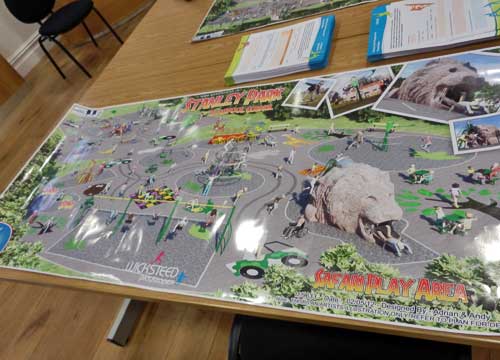 These Scottish visitors to Stanley Park had a great day and made a great YouTube video in July 2012:
Heritage Walks in Stanley Park and at the Winter Gardens. Click here to read more.
Heritage Guided Tours of Stanley Park.
Click here to read about dates and times.
On our website you can find out all about the work of our group as well as keep up to date with events, projects and developments on Stanley Park and Salisbury Woodland.
We welcome any comments on our website as well as our green spaces, so please don't hesitate to contact us. Our Facebook page 'Friends of Stanley Park - Blackpool' can be found on the news page.
Walks in the park and round about, click here
Postal Address: Friends of Stanley Park & Salisbury Woodland, c/o Parks & Green Environment Service, Stanley Park Offices, West Park Drive, Blackpool, FY3 9HU.

Tweet at us @BlackpoolFoSP
Please join our Facebook page by clicking on the 'like' button below.
This website looks best in the latest versions of browsers