Friends of Stanley Park and Salisbury Woodland, Blackpool
Home Page
Welcome, please join us
We are a friendly group who work with the co-operation of Blackpool Council to make the park as attractive and interesting as possible.
Meet new friends and become involved in park life.
If you are interested in joining us or becoming a volunteer please use the link below
Stanley Park Blackpool is an award winning Grade II* listed park a mile inland from the promenade. Voted best park in the UK twice, 2017 and 2019 in the Fields in Trust vote, it contains two large lakes, superb floral displays, top class sports facilities and many leisure facilities for all the family. We're proud to be able to work with Blackpool Council on maintaining this fine asset for our town.
Friends of Stanley Park up-coming activities
Macmillan Coffee Weekend,
Saturday and Sunday 25th/26th September 10.30am to 2.30pm
In the Visitor Centre. All proceeds to Macmillan Cancer Support.
Tea, Coffee, Cakes, Stalls, Games and Big Raffle.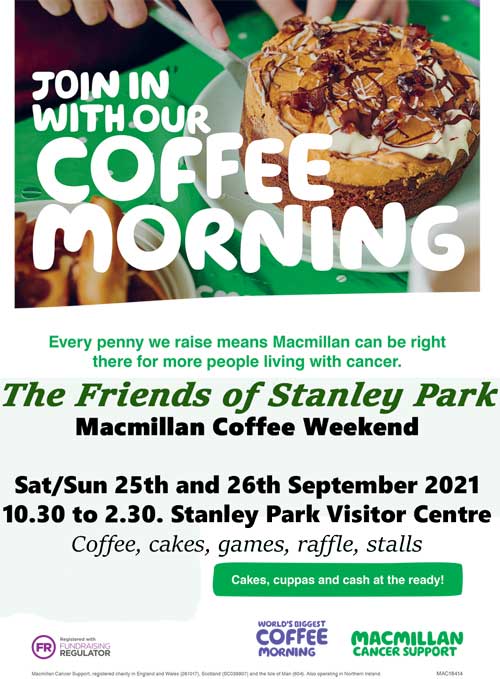 The Visitor Centre will be open from Tuesday 7th September.
Tuesday to Sunday, 10am to 3pm. Information about the park. Staffed by volunteers from the Friends of Stanley Park.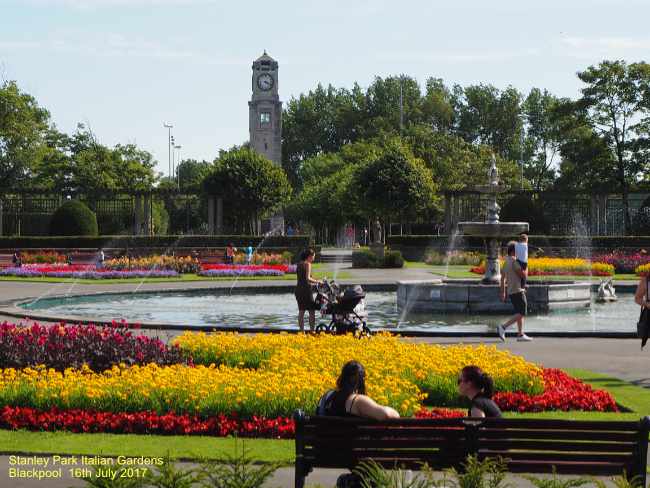 Craft Club: Every Tuesday 10am to 3pm in the Visitor Centre run by Mike.
Dog Walkers Club: Every Wednesday 10am to 3pm in the Visitor Centre hosted by Nigel.
Gardeners Club: Every Monday and Thursday 10am to 12. Meet in the Rose Garden or Memorial Garden.
Volunteers always wanted.
In the Visitor Centre:
Public Exhibition by the Blackpool Boys and Girls Club, 'The Joker in Me'.
Tuesday 7th Sept to Sunday 19th Sept 10am-3pm. Giving young people the opportunity to explore their evolving attitudes to life, with its joys, trials and complexities.
Friends of Stanley Park Monthly Meeting with guest speaker Dave Blacker from the Boys and Girls Club
Saturday 18th September 2021 2pm to 4pm. (Dave will be staging an exhibition in the Visitor Centre from Tuesday 7th Sept to Monday 20th Sept, 10.30am to 3pm.)
Blackpool Civic Trust Photograph and Art Competition based on a theme 'Celebrating our Seaside Heritage Past and Present'.
Wednesday 22nd September to Sunday 26th October. Please send in your entries see the Blackpool Civic Trust website click here
Macmillan Coffee Weekend
Saturday and Sunday 25th and 26th September with cakes and family fun. 10.30 to 2.30pm.
Stanley Park Bandstand Shows 2021 Cancelled
Following discussions with Blackpool Council it has been decided there will be no bandstand shows in 2021 due to the risks and uncertainties of the Covid pandemic.
Twice winners of the Fields in Trust UK's Best Park Award, 2017 and 2019. Fields in Trust Best Park in the UK - Stanley Park Blackpool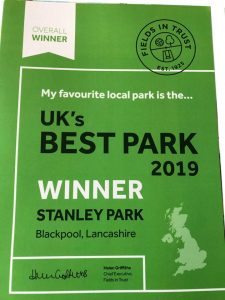 Plus 'Best Have a Field Day 2017' from Fields in Trust for the 90th Summer Celebration.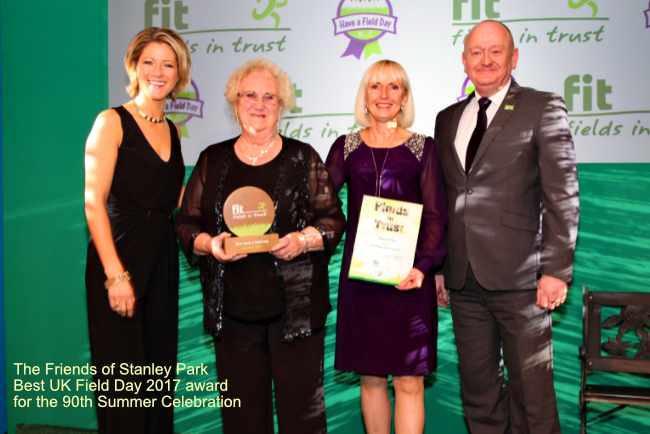 Postal Address:
Friends of Stanley Park & Salisbury Woodland,
c/o Parks & Green Environment Service,
Stanley Park Offices,
West Park Drive,
Blackpool,
FY3 9HU
Updated: 11 September, 2021