Site Map - Map to Park - Join the Friends - Links
Friends of Stanley Park
and Salisbury Woodland
Blackpool
Established 10th July 2002
Welcome, please join us.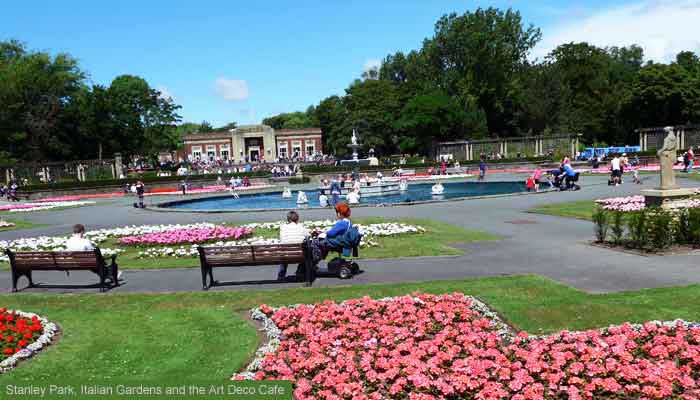 We are a friendly group who work with the co-operation of Blackpool Council to make the park as attractive and interesting as possible. If you are interested in joining us or working as a volunteer please contact us.
Next Meeting: Visitor Centre 2pm to 4pm on Saturday 20th August
Family Fun Friday 22nd to Saturday 30th July closing 4.30pm - Love Parks Week. Click here to read the full programme or scroll down the page
free live music on the Bandstand, Sun, 31st July, Kudos and Friends, 1pm to 4.30pm click here for the programme
Sunday 31st July 11am Blackpool Heritage Guided Tour of Stanley Park including climbing the Cocker Tower for scenic views, booking essential. See their website.
The Visitor Centre: Summer Opening Wed to Sun inclusive 11am to 3pm. Current exhibition is 'Blackpool Sandcastle 30 years'
LOVE PARKS WEEK
Friday evening July 22nd to Saturday afternoon July 30th
Click here for a pdf version of the programme
or click here to read more on the website
New Bus Service to the Park
Service 20 from June 11th, Blackpool Transport, certain dates only see the leaflet.
Click here to download the timetable and details on a pdf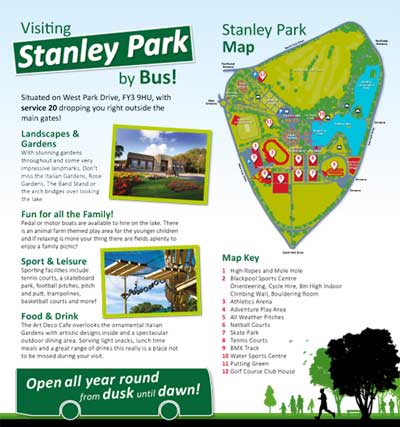 Visitor Centre Opening Hours
Summer times are Wednesday to Sun 11am to 3pm.
Visitor Centre Phone: 07554 4387700
Hire the Visitor Centre, click here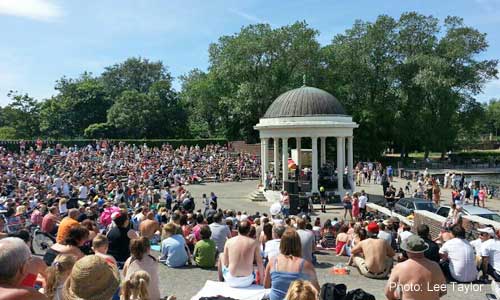 Photo: Beautiful day at the packed bandstand
Scottish visitors to Stanley Park had a great day and made a great YouTube video in July 2012:
On our website you can find out all about the work of our group as well as keep up to date with events, projects and developments on Stanley Park and Salisbury Woodland.
We welcome any comments on our website as well as our green spaces, so please don't hesitate to contact us. Our Facebook page 'Friends of Stanley Park - Blackpool' can be found on the news page.
Join The Friends of Stanley Park as an individual, family or corporate member. Click here to find the application form.
Walks in the park and round about, click here
Postal Address: Friends of Stanley Park & Salisbury Woodland, c/o Parks & Green Environment Service, Stanley Park Offices, West Park Drive, Blackpool, FY3 9HU.
Ring us in the Visitor Centre: 07554 4387700
Tweet to us @BlackpoolFoSP
Link to our Facebook Page - Friends of Stanley Park - Blackpool
This website looks best in the latest versions of browsers