This is the Home Page

Friends of Stanley Park
and Salisbury Woodland
Established July 2002
Blackpool

Find out more about the Resolution Run, scroll down the page.

We are a friendly group who work with the co-operation of Blackpool Council to make the park as attractive and interesting as possible. If you are interested in joining us or working as a volunteer please contact us.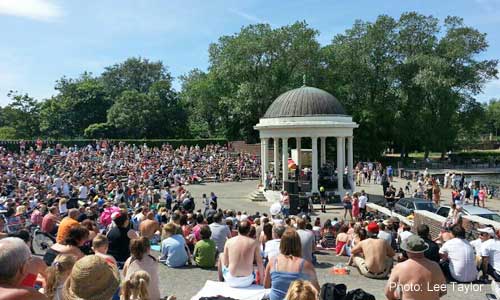 Photo: Beautiful day at the packed bandstand 14th July 2013, Belvadere, Poundstone, Rupert Fabulous.
(yes it's Belvadere with an 'a').
Friends of Stanley Park meet on the 3rd Saturday of every month in the Visitor Centre. Join us, non-members welcome.

Next Meeting: 15th March 2014 2pm to 4pm.

Full list of shows on the bandstand for 2014 on the Events page.

Starting with Salsa on 20th April and finishing on 28th September - the long summer.
Stanley Park Visitor Centre Exhibitions
20th April Easter Fair in the Visitor Centre. Details to follow.
Photo of part of the 'Dug In' display on-going exhibition.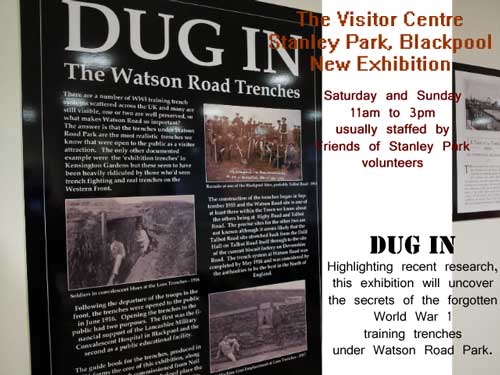 Opening times Saturday and Sunday 11-3 until spring 2014.
Exhibition on Now:
Early January to Spring 2014 - Dug In
Highlighting recent research, this exhibition will uncover the secrets of the forgotten World War 1 training trenches under Watson Road Park.

Resolution Run Series at Stanley Park on Sunday 16th March 2014.
On behalf of The Stroke Association.
We are really looking forward to holding one of our runs here as I have been trying to cover Blackpool for some time now and Stanley Park is very close to my heart as me and my family have been coming here, using the boats and having cakes in the Café for many years!
We also have family support and information and advice officers based in offices round the corner from the park so we are thrilled to be using this as one of our venues for 2014.
For more information contact:
or visit their website:
http://www.stroke.org.uk/event/resolution-run-stanley-park-blackpool
Please note that the above event has nothing to do with Friends of Stanley Park.
Special thanks to the following for providing raffle prizes & donations at our Christmas Fair: 
Parks, Art Deco Cafe, Stanley Park
Merlin, 
Co-op on Whitegate Drive
Feblands, 
Halsall Toys Europe ltd. 
Beach House Bistro Bar, 
Cottage Chip Shop. 
Tesco. 
Belle Vue Hotel. 
Whitworth Chemist. 
Wilkinsons. 
Print It.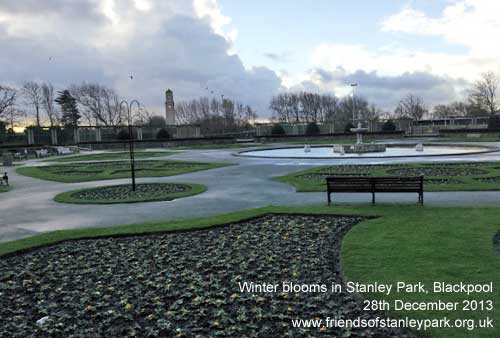 Photo of the proposed children's playground: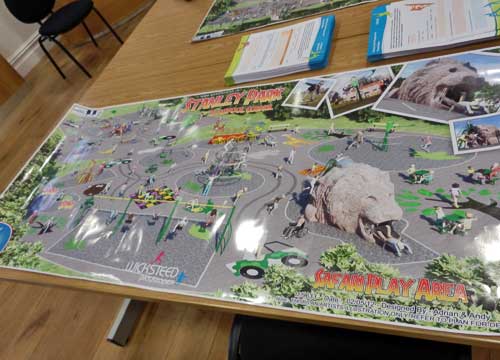 These Scottish visitors to Stanley Park had a great day and made a great YouTube video in July 2012:
Heritage Walks in Stanley Park and at the Winter Gardens. Click here to read more.
Heritage Guided Tours of Stanley Park.
Click here to read about dates and times.
On our website you can find out all about the work of our group as well as keep up to date with events, projects and developments on Stanley Park and Salisbury Woodland.
We welcome any comments on our website as well as our green spaces, so please don't hesitate to contact us. Our Facebook page 'Friends of Stanley Park - Blackpool' can be found on the news page.
Walks in the park and round about, click here
Postal Address: Friends of Stanley Park & Salisbury Woodland, c/o Parks & Green Environment Service, Stanley Park Offices, West Park Drive, Blackpool, FY3 9HU.

Tweet at us @BlackpoolFoSP
Please join our Facebook page by clicking on the 'like' button below.
This website looks best in the latest versions of browsers